Today is National Best Friends Day. 
Though not Guyanese, we can still be inspired by this American observance. Celebrated since 1935, it was decided by the United States Congress to devote one day to pay tribute to close-knit friendships. It's nice to piggyback on these days when they're really significant, like today. 
In Guyana, I've seen a number of instances where women have boldly announced that they prefer to have male friends over female friends or witness a heated buse-out between "friends" (just scroll through your timeline). I've also seen a number of female friendships that dry up very quickly or over time, because of one thing or another. What's wrong with having female friends? What's the difficulty in keeping female friends?
Friendship works both ways. It is mutual appreciation and admiration; it's respect, understanding and support. It's respecting the differences and celebrating the similarities. It also works if you want it to. 
We do outgrow people, but other times, we just don't put in the effort or understand the importance of having a tribe that works for us. We also need to be honest with ourselves, actually cultivating and maintaining any relationship must start with you, identifying and staying true to your wants and needs, likes and dislikes, and values. 
Two things to note. 1. You really don't need a ton of friends; and 2. there are levels to this shit. We will have best friends, colleagues who we are pretty cool with, acquaintances, social media friends, an endless list really. Know who you are and know who they are.  
I am honoured to have a tribe of sisters, that support and celebrate me. Many times, I have had people say "I just love how you and your friends are". We are who we are because we put in the work, but most of all we are true to ourselves. 
I do believe that our differences are the cords that bind us together. We did not become friends because of shared hatred for someone; or for any other dark reason. We kind of liked each other, as women and we also liked ourselves as individuals.
But we grew, as individuals whilst developing a greater appreciation for our friendship.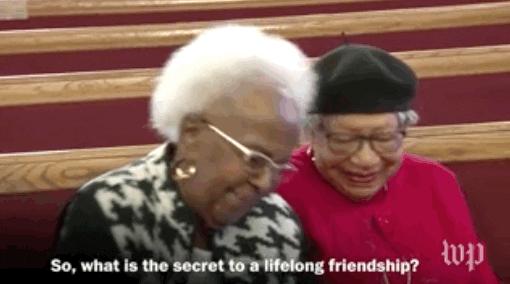 We stay grounded and connected by doing the following: 
Our interests and passions are different. We have different professions, we have different likes and dislikes, but we give each other the support that is needed at all times. We show up for each other, at events, in good times and bad. We use our strengths and connections and insights and Facebook pages to help each other.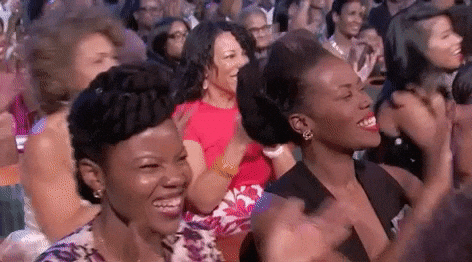 We love celebrating – birthdays, anniversaries, milestones, accomplishments, whatever warrants confetti and cocktails.We give gifts at birthdays. We have an annual gift exchange party at Christmas and an annual New Year Lime to ring in the New Year and to celebrate the friendship that made it. We attend graduations, we go for drinks if there is a promotion, we give claps and high-fives as often as possible.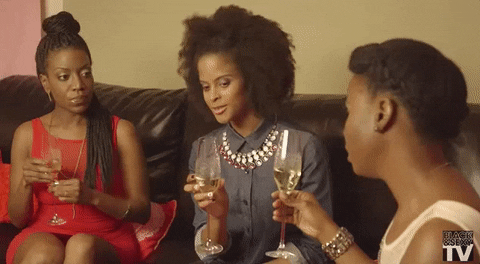 We communicate with each other
We have a group on all platforms. Spaces for the sharing of information, for check-ins, for ventilating pertinent issues, for venting and cussing, for analysing rights and wrongs, for friendly gossip, for laughing and comforting. 
We empower and inspire each other
Consciously or unconsciously, we learn from each other. If you're not learning or inspired in one way or another, maybe you need new friends. Our own individual strengths and passions integrate to create a community that empowers, inspires and motivates. Even if you are inspired or motivated to not do something. 
Seeing the world and experiencing different cultures with your tribe is definitely something great and lots of fun. Whether it is a local trip to learn and enjoy the islands in the Essequibo or one to wine and carry on at Carnival or to celebrate a birthday someplace exotic. We take pride in enjoying life together. 
Sometimes you might realise that some parts of a friendship or the whole damn friendship is not working out for you. Check in with yourself first, after careful introspection and maybe checking in with one or two persons, and you still feel like it's not working out for you. Then leave. Reposition yourself. As much as it is about the people around you, healthy friendships are also about you and what you can give and receive.
I don't know who said this: "Find Your Tribe, Love Them Hard", but it is something I strongly believe in. Honour yourself enough to accept that strong female friendships are necessary (Just so you know, this is a post about female friendships).  It's so refreshing to have one or two or a group of persons that you can turn in good times and bad.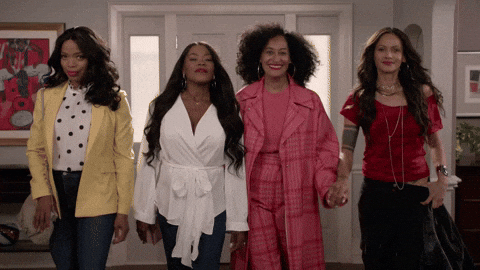 Happy Best Friends Day! Do you have a group of girlfriends that you are thankful for?
Gifs by Giphy.