COVID19 is here and we're forced to do a lot of things differently. Many volunteer groups and organisations, in keeping with public health measures, have cancelled all face to face events and activities. Work and community organising is looking different for many people and the leadership of various groups. Group leaders are compelled to think of innovative ways to keep their groups energized and committed to their goals and focus. 
While we're all physically distant, we must remain socially connected, in order to continue our work. Now is not the time to down tools, but rather think of ingenious ways to reach and engage the communities we serve. 
Prior to COVID19, to be effective in my engagements with my various volunteer groups I would use a number of resourceful productivity tools. During COVID19, I sought to learn and employ some more to further help me to engage constructively with my groups. 
The following tools have helped me tremendously, so I'm sharing them with you in the hopes that they would also help you and your groups to function effectively: 
Doodle: Organising meetings can be a daunting task. Everyone has something else they're committed to. If there is not a set date and time for a set meeting, organising one is sometimes difficult. Doodle helps me to poll my audience to ascertain the perfect time and date for a meeting or event. Create a poll with options, suggest various days and times, then email or WhatsApp the link to your members. Let them know when you expect a response, then check to see what the majority says. Saves a lot of time, you don't have to call everyone and hear "oh, let me check my schedule and call you back". Accept that it is hard to sometimes get everyone on the same day and at the same time and move on with the majority, after all compromises. 
Slack: You might have a WhatsApp group with all the members in your group. But sometimes, you have smaller committees or groups focused on specific areas. If you're like me and detest adding another WhatsApp group to your already long lists of WhatsApp groups, you can try Slack. Slack allows you to create different channels for different things. So you can create a channel for a different focus then add the necessary members to the channel, e.g. Fundraising, add all the members of the fundraising committee to a group so that you can still communicate and share ideas. Before COVID19 this would be a fundraising committee meeting with snacks; during COVID19, it's just a slack channel. Google Forms: You must know of Google Forms. A simple and easy way to get the responses you need from the people you need them from. I use Google Forms to review events and the year, to plan ahead, for persons to register and sign up, to find out whether my friends want a virtual paint party or a Netflix party. Whatever it is, Google Forms is the answer. Now that we're physically distant, and face-to-face activities have been reduced, we're provided with the perfect time to plan ahead. Create a planning form and send it to your members – what are your goals for the months ahead, what activities do you want in mind, etc, etc. Whatever responses you want, the members filling your Google Form will provide you with it. 
Zoom / Go-To Meeting / Skype / Google Hangout / Jitsi: Our meetings now all have a different face and feel. We get dressed from the waist up and show up. It's not, because of COVID19 we're not going to have our regular meetings, it's now, due to COVID19 our meetings happen using one of the aforementioned platforms. They're easy to use and definitely gets the job done. Zoom is low on the time allowed, so try the others for optimal time and engagement.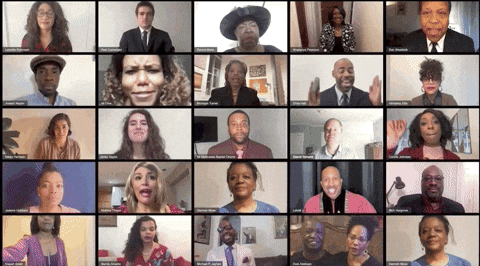 These platforms are also ideal to host virtual events. Did you host monthly empowerment sessions, move your sessions online. Did you have training sessions planned? Turn then into webinars. And so on, you get the point. 
Thinkific: Events and activities have been reduced, there is no escaping that. But our members are still our members and we still need to keep them engaged. One of the main reasons people join volunteer organisations is to grow, both personally and professionally. Now that we have some time, why not execute some personal and professional development training sessions. Thinkific is perfect for organising online training courses / sessions. As opposed to a one off Zoom training, organise an online training that persons can do at their leisure. There will be a start and end date of course, but you're afforded lots of flexibility here. 
These are just some of my faves. Do look out for my post on some of my non-COVID19 related tools.
What cool tool/s do you use?